We have a large range of beautiful lighting from original French Chandeliers and Lamps all with their own uniqueness and style. We have many more in the showroom than is shown here. Please visit us to help you find your perfect piece.
Lighting
You can't reproduce original good...
Beautifully Crafted Tear Drop Pendant...
Nickel Bedside Lamp $499 70cm H 17cm...
Mille Follie Chandelier $865 Not...
We are currently uploading our new...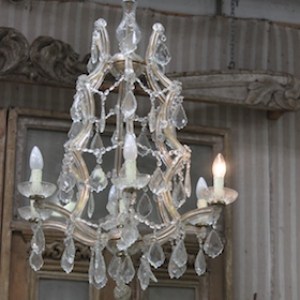 Seven font sitting on a birdcage...
Circus Preformer Wire Lamp $995
A rare piece. Gorgeous French...
Stunning ten tier French crystal...
French Birdcage Chandelier with...
A beautiful shape and looks fabulous in...
Maison Levy pendant lighting hand...
Subscribe

to our Newsletter